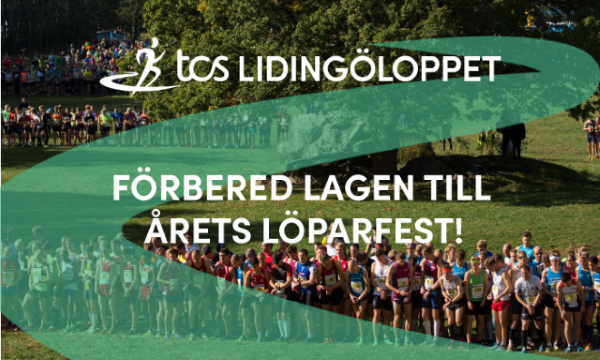 Welcome to the TCS Lidingöloppet weekend - a classic meeting place for Swedish club sports! For 58 years, athletes have met on Lidingö's courses, and this autumn it's time again!

All members of Swedish sports associations are currently offered the following benefits during TCS Lidingöloppet 2023:

15% club discount
Bring your club to TCS Lidingöloppet in September! We are currently offering a 15% discount on race entries for all members of sports associations.

If you, as a club representative, would like your association to use from the offer, please contact TCS Lidingöloppet via info@lidingoloppet.se. The offer can be used until the 30th of August 2023.
ATTENTION: You can only use the discount through your club. It is thus not possible to contact us as an individual club member to get the price reduction. If you are interested, ask the contact person in your club to contact Lidingöloppet, and we will send a discount code to the club, to be distributed to its members! The offer only applies to new registrations (not retroactively) and cannot be combined with other offers. The discount does not apply to TCS Lilla Lidingöloppet and TCS Knatteloppet, which have the same price all year round.

Help with accommodation
There is a wide range of accommodation in connection with TCS Lidingöloppet - from gymnasiums to hotels, and we are happy to help you find a solutions that fits your particular club. Feel free to contact us at boende@lidingoloppet.se!

For more information on accommodation options during the TCS Lidingö race weekend, follow this link!

See you at Lidingö on the 22 - 24 of September!
---
Program for TCS Lidingöloppet 2023:

Friday the 22 of September
TCS LidingöRullet: 2 km
TCS LidingöRuset: 1.7 km and 4 km
TCS Lidingöfemman: 5 km

Saturday the 23 of September
TCS Lidingöloppet Juniors and Veterans, 4, 10 and 10 km
TCS Lidingöloppet 15 km
TCS Lidingöloppet 30 km

Sunday the 24 of September
TCS Lilla Lidingöloppet: 1.7, 3 and 6 km
TCS Lidingö Knattelopp: 1.7 km
Rosa Bandet-loppet (the Pink Ribbon-race): 4 and 10 km

Register for the TCS Lidingö race weekend 2023 >
Start times for all races >
Registration fees >