In an interview, Pia shares her experience as official during the TCS Lidingöloppet weekend - a journey framed by the joy of running and by of a celebration of movement in all forms:

How did you first become a race official at TCS Lidingöloppet - and what roles have you had over the year since then?
– I am a track athlete and when I changed clubs to IFK Lidingö Friidrott, I was assignments to work as a race official at TCS Lidingöloppet. I have since then helped out along the course, managed bags, distributed number bibs, been the wreath carrier, and, for the last 18 years, been the responsible agent for the award ceremonies.

What year at TCS Lidingöloppet has been most spectacular and memorable?
– I can't pin down a specific year, but it is such a joy to see all participants cross the finish line at TCS Lidingöruset - it warms my heart! And the years when Markoolio performed on stage during TCS Lidingöruset are very special memories, as is 2015, when HRH Prince Frederik of Denmark took part in the 30k-race.

You have a special role when it comes to distributing prizes on the big stage - what atmosphere do you wish to create and what do you want the recipients and the audience to remember from the experience?
– I am always assisted by a good announcer, who helps to make sure that the energy during the award ceremonies is high and grand. I have the easy task of ensuring that everyone gets the right prices.

What feeling do you usually wake up with during the first race day - and how do you feel when the weekend is over?
– The whole weekend is a party - I wake up with joy every morning on the race days and am completely exhausted in the evenings.

What are your main arguments for becoming a race official during the TCS Lidingöloppet weekend?
– The excitement, the community, and all the joy that you get from participants all make it a lot of fun to be a race official.
---
The Juror's statement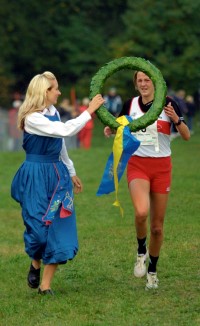 In 2001, IFK Lidingö Friidrott's sprinter Pia Welin was named the 30th wreath carrier in Lidingöloppet.

Four years later, in 2005, Pia, now with the surname Isaksson, accepted the responsibility for the race's award ceremonies during the three competition days, after Dagny Blomgren passed away.

The task means being the person who enables the celebrations of all winners' performances, over three full days. Pia has, over the years, proven to have full control over all logistics - both behind, next to and on stage when prizes are handed out.

With her special calmness, security, commitment and knowledge, Pia spreads harmony wherever she is involved - both on and around the stage, and among participants and her race official colleagues. Pia Isaksson is thus awarded Lasse Dahlstedt's race official award in 2022.
---
Read more

On being a race official at TCS Lidingöloppet >
Thank you all who made TCS Lidingöloppet 2022 possible! >
About Lidingöloppet >